Here you will find information about hiring cars, minibuses, coaches and renting motorcycles and bikes in Cyprus. We also have coach trips from all the main towns, sightseeing and cruise information.

We are a car hire agency, we work together with a selection of quality owners, and will find you the type of vehicle you want, at a good price. We will check availability and find you the best value available on the island at your preferred time, at no extra cost to you even in the height of the season. (Please, please book early if possible, as cars are limited in the height of the season in Cyprus. There are only a limited number available on the island.)
We try to give good service, and sort out any problems you may encounter whilst here. We have a 24hr support service.
We are often used in conjunction with Cyprus-villas , CyprusYachts, Cyprus Wedding and A Window on Cyprus as we have combined value with service for over 20 years. We do not use automatic run around and die forms and will not.
Insurance up to CDW and unlimited mileage is included on all cars.

If you want us to arrange transport hire for you, please check our lists and decide what type of vehicle you are interested in, then fill in this form and we will check availability and let you know your options prior to booking.
It will cost you no more than booking direct on arrival but you will have the backup you want.
Answers to all your queries is guaranteed within 24 hrs maximum on working days.


Armata Transport Section
Whatever section you wish to contact PO Box 40218
Larnaca, Cyprus
Phone +357 24 665408
Fax +357 24 627489
E-mail infoATcyprus-car-hire.com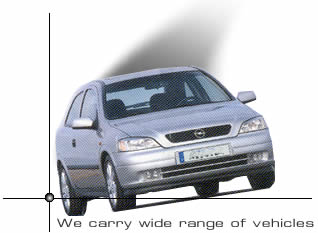 We have small economy cars and sports cars as well as 4x4 long and short wheel base vehicles. We also have disabled scooters and electric wheelchairs for holiday hire. If you are on a business trip and want a prestige car, we can supply it as well as a chauffer driven limousine. We carry wedding cars both classic and modern, yachts, bicycles, quad bikes, Harley Davidson's and prams. In fact we think we have just about anything you may wish to hire. Try us!

If you have any questions about our car hire services, you may speak with us during office hours.

If you are already here and using us and you have a problem, you may contact us at any time.

Have a great holiday in Cyprus.